Langair Machining, Inc.
In September of 1997, Harmon drove over to Van's Aircraft, loaded up one of Van's quick build kits, and drove it home. He then had to remodel a room in the back of the shop to make it suitable for building an airplane. In the spring of '98 when completion was nearing, he added a paint room onto the airplane room. Harmon stayed focused on the project, and in June Harmon and Ken Krueger began painting the 6A.
On July 2, 1998, just 10 months after Harmon bought the kit, the RV-6A, (N164ML) took to the skies. Needless to say, it was an exciting beautiful flight. The 6A flew to Oshkosh three weeks later. The RV-6A has a Lycoming 0360, 180 HP engine with a Constant Speed Prop. It cruises about 200 mph. It weighs in at 1076 lbs. empty.
Shortly after, EAA Headquarters featured a story about Harmon and the colorful 6A in the "Sport Aviation" magazine.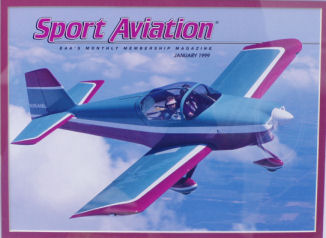 Langair Machining, Inc.
33094 Church Road
Warren, OR 97053

Office (503) 397-1478
Fax (503) 397-1498
Email: harmon@langair.com

---
Copyright 1998-2006 © Langair Machining, Inc.
All rights reserved